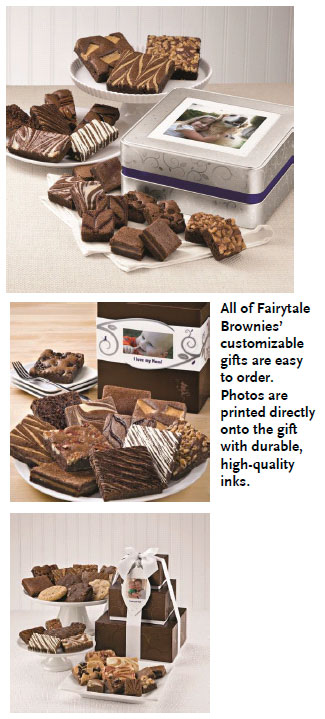 Phoenix, Ariz. - March 13, 2013 - Fairytale Brownies provides a new option to personalize gifts for a treat that will be treasured for years.

The photo option is available on any of Fairytale Brownies' customizable gifts, tins, boxes, bands and hang tags - and ordering is easy. Just pick a gift, upload a photo and ship the gift the same day.

"Our customers want to share their life moments," Co-founder Eileen Spitalny said. "We oblige them with our quick and easy photo upload option."

Images must be high resolution (300 dpi or greater) in JPG file format when ordering. Bother horizontal and vertical photos are accepted, and text can be added as well.

Photo gifts also make nice mementos for event sponsors, company party organizers and sports team boosters. One thankful recipient hung her photo tin lid on her sewing room wall so she can see her grandchildren every day.

All of Fairytale Brownies gift packaging is designed to create a Fairytale experience. The addition of a photo makes the experience that much better.

For more information, samples, or images, please contact Alyssa Andrews of Fairytale Brownies at 602.489.5140, alyssa@brownies.com.