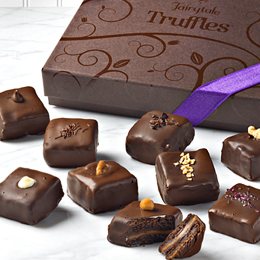 Phoenix, Ariz. - Immediate Release - Whether it's a new brownie flavor or packaging design, Fairytale Brownies fans look to the fall season for "what's new" in holiday gifts. Fairytale Brownies is excited to provide a little bit of both.

Fairytale fans were first introduced to the Fairytale Truffle in 2008. Three flavors of snack-sized brownie morsel were enrobed in 60% dark Callebaut chocolate. The result was a decadent, double chocolate brownie experience perfect for chocolate lovers. This year, Fairytale introduces more flavors to its 9-peice box. Each assortment includes one each of Original, Caramel, Chocolate Chip, Espresso Nib, Pecan, Raspberry Swirl, Toffee Crunch, Walnut and White Chocolate.

The Truffles gift box has received rave reviews. Borrowing the elegance and quality of that box, Fairytale designed three signature tower gifts for the fall.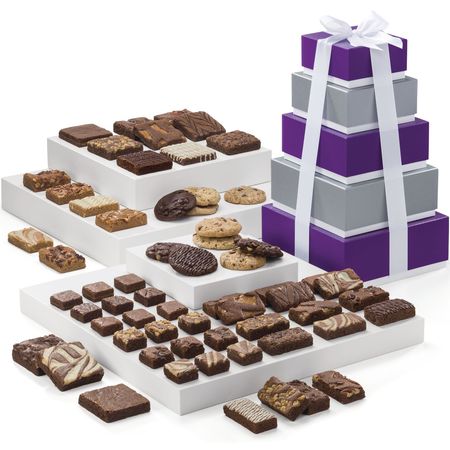 "Tower gifts are meant to be big impression getters," Co-Founder and Catalog & Web Team Leader David Kravetz said. "Our customers have come to expect beautiful packaging from Fairytale Brownies, and this year's tower gifts will exceed their expectations."

Fairytale's Holiday and Christmas towers will create a festive mood for both the giver and receiver. Giant snowflakes float amidst royal blue, teal and deep purple backgrounds in the three-box Holiday Tower. Stuffed with gourmet brownies and new Fairytale Cookies, the solid white snowcapped lids adorn the decorative bottoms and protect their delicious cargo.

Snow is falling over the bright red Fairytale Forest in the three-box Christmas Tower. The green center box lid accentuates the bow-trimmed trees and birds perched among the pines. White satin ribbons adorn both the Holiday and Christmas towers. These boxes are nice enough to "regift" or fill with other keepsake treasures.

Fairytale's new Keepsake Tin isn't your average decorative food tin. Designed specifically with the Fairytale Brownies brand in mind, the silver and purple tin is stylish and sophisticated. The white center on the top of the lid allows for customization with a company's logo, message or photo.

Special occasion gift bands have adorned Fairytale Brownies gift boxes for more than 10 years. The new Merry Christmas band depicts the Fairytale forest festively decorated with stockings filled with cacao pods. As the snow gently falls, the Fairytale Brownie sits on a branch by his stocking, and scarf-clad birds chirp carols near the lit Christmas tree. There's a full moon rising on the new Happy Holidays gift band. The Fairytale Brownie has ventured out on this starry night to try out his new skates on the frozen lake. A cup of hot cocoa (soon to be chilled) nestles in a snow bank awaiting his return.

Baking since 1992, Fairytale Brownies is known for its rich Callebaut dark chocolate brownies. Every batch of brownies is baked by hand using a 50-year-old family recipe and all-natural ingredients including pure creamery butter and farm-fresh eggs.

For more information, samples, or images, please contact Eileen Spitalny of Fairytale Brownies at 602.489.5122, eileen@brownies.com.