This gift contains: 48 pieces
48 Magic Morsels:
8 Caramel, 8 Chocolate Chip, 8 Original, 8 Raspberry Swirl, 8 Walnut, 8 Cream Cheese.
Fairytale Treats - Sizes and Flavors
Fairytale Brownies, Sprites and Magic Morsels
Full-size Fairytale Brownies ("3 x 3") and snack-size Fairytale Sprites (3" x 1.5") available in all 12 flavors. Bite-size Magic Morsels (1.5" x 1.5") available in *8 flavors.

Available in Caramel, Chocolate Chip, Coconut, Cream Cheese, Espresso Nib, Mint Chocolate, Original, Pecan, Raspberry Swirl, Toffee Crunch, Walnut and White Chocolate. *Sugar-Free Original and Sugar-Free Walnut available in Magic Morsel size only.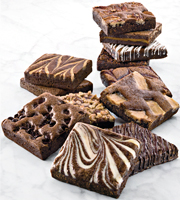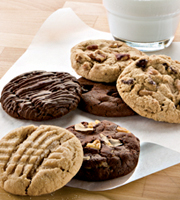 Fairytale Cookies
Baked with premium, all-natural ingredients, our six flavors of Fairytale Cookies are just like homemade (3.25" round).

Available in Chocolate Chip, Caramel Pecan, Double Chocolate, Coconut Walnut, Toffee Chocolate Chip and Mint Chocolate.
Fairytale Bars
Dark brown sugar and premium toppings make our six flavors of Fairytale Bars instant classics (3" x 2").

Available in Chocolate Chip Blondie, Pecan Blondie, Raspberry White Chocolate, Cheesecake Swirl, Cinnamon Crumb, and Lemon Blondie.