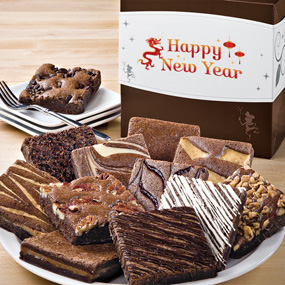 Phoenix, Ariz. - January 8, 2014 - The year of the Horse begins January 31st and those who celebrate Chinese New Year can wish loved ones good fortune, happiness, wealth and longevity with sweet treats from Fairytale Brownies.

The Chinese Happy New Year Gift band is designed in traditional red, a color that symbolizes fire believed to ward away bad luck. A dancing dragon and colorful lanterns, also a part of the Chinese celebration, are featured on the new year gift band. The band can be wrapped in all of Fairytale's classic gift boxes, and a smaller version gifts on Fairytale's purple treasure boxes.

Chinese New Year is typically a time when Family gathers for thanksgiving and remembrance. Because Fairytale Brownies offers individually wrapped brownies, cookies and bars in a variety of gift sizes and combinations, there is a Fairytale gift for every size gathering.

The new Chinese New Year gift bands are available for purchase now.

For more information, samples, or images, please contact Alyssa Andrews of Fairytale Brownies at 602.489.5140, alyssa@brownies.com.