CONTACT: ALYSSA ANDREWS
Fairytale Brownies
www.brownies.com
602.489.5140
alyssa@brownies.com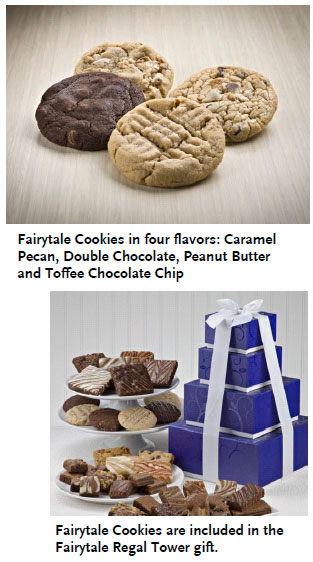 Phoenix, Ariz. - December 1, 2012 - Fairytale Brownies now offers a new taste experience for retailers and dropship customers: four flavors of soft and chewy cookies.

"We decided it was time to branch out beyond our brownie beginnings," David Kravetz, co-founder said. "Customers were asking for variety, so the next logical step for us was cookies."

Baked with the same premium, all-natural ingredients used in Fairytale's signature brownies, the new cookies - Caramel Pecan, Double Chocolate, Peanut Butter, and Toffee Chocolate Chip - are available for purchase for retail in cases of 60 (mixed or single flavor), and are included in combination gifts for dropship customers.

Organic vanilla extract, melt-in-your-mouth caramel and premium pecans give the Caramel Pecan a moist and chewy texture with a bit of satisfying crunch. The Double Chocolate cookie, baked with refined Callebaut cocoa powder and rich Callebaut Belgian chocolate chips, will sate even the most discerning chocolate lover's cravings. Smooth, natural peanut butter and crunchy sugar crystals combine for a moist and flavorful Peanut Butter cookie. And hoverUP brown sugar, Callebaut Belgian chocolate chips, and chewy toffee pieces provide a sophisticatedly sweet Toffee Chocolate Chip cookie.

For more information, samples, or images, please contact Alyssa Andrews of Fairytale Brownies at 602.489.5140, alyssa@brownies.com.
< Back