CONTACT: EILEEN SPITALNY
Fairytale Brownies
www.brownies.com
602.489.5155
eileen@brownies.com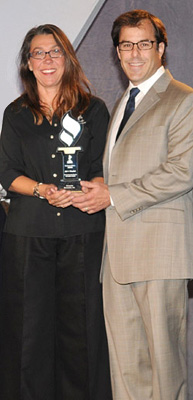 Phoenix, Ariz. - Immediate Release - Fairytale Brownies, Inc. has been awarded the 2011 Business Ethics Award in Category III (21-50 employees) given by the Better Business Bureau serving Central, Northern and Western Arizona (BBB).

The gourmet brownie company was one of five winners chosen by an independent panel of volunteer community leaders. Each business was judged on Management Practices: (customer, vendor and supplier relations), Marketing: (advertising, communications, and sales practices), and reputation within the industry and community. Judges announced 15 finalists in March, and the five winners were named at a dinner celebration on May 26th.

Co-founders Eileen Spitalny and David Kravetz said they are honored to receive the BBB Business Ethics Award. The company is committed to its "one pure promise," which guarantees complete satisfaction for its products.

"We under promise and over deliver," Spitalny said.

Baking since 1992, Kravetz said the award validates that Fairytale Brownies has been making good decisions over the years and hopes the company will be a role model to other growing businesses.

"Maybe other businesses will see that it is worth following this path," Spitalny said. "We believe that if you surround yourself with like-minded people, a successful healthy and ethical company is what comes out of it."

For more information, samples, or images, please contact Eileen Spitalny of Fairytale Brownies at 602.489.5122, eileen@brownies.com.

Photo credit: www.peterjordanphoto.com.
Back