CONTACT: EILEEN SPITALNY
Fairytale Brownies
www.brownies.com
602.489.5155
eileen@brownies.com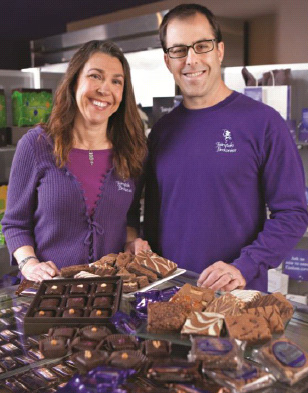 Phoenix, Ariz. - Immediate Release - Fairytale Brownies is one of four companies and one individual that will receive the BBB International Torch Award next month in Washington, D.C.

Presented by the Council of Better Business Bureaus to recognize those that have exemplified BBB's mission to advance trust in the marketplace, Fairytale Brownies was chosen from BBB members across the United States and Canada.

"For 100 years, BBB have been setting standards to make trust a fundamental component of the American and Canadian marketplace," said Carrie A. Hurt, president and CEO of the Council of Better Business Bureaus. "The international Torch Award winners embody that vision on a daily basis, and we are proud to honor them."

Fairytale Brownies will receive its award for Marketplace Excellence. This award is given to a business that demonstrates superior commitment to exceptional standards that benefit its customers, employees, suppliers, shareholders and surrounding communities. Fairytale competed with similar-sized companies in the "under 100 employee" category.

Fairytale Brownies was founded 20 years ago with trust in mind. In 1992, co-founders David Kravetz and Eileen Spitalny sparked a compound goal: to simplify gift-giving and spread joy through gourmet brownies.

We wanted to do it through the creation of a big family of systems," Eileen said, "Every employee's contribution is needed to make our scrumptious brownies in custom packaging arrive on time."

Customers experience those contributions when they send a Fairytale Brownies gift that is deliciously fresh, carefully packed and efficiently shipped. This is called a Fairytale experience. This experience is backed by the company's "One Pure Promise" that if the customer or customer's gift recipient is ever dissatisfied, even a little bit, Fairytale will do whatever it takes to make it right.

All of Fairytale Brownies products are baked with premium ingredients like imported Belgian chocolate, real creamery butter and farm fresh eggs, and are certified kosher for dairy.

Eileen and David will attend a banquet and ceremony on Oct. 2 at the Andrew W. Mellon Auditorium in Washington, D.C. Other award recipients are Stephen Brobeck, Ford Motor Company, Rockwell Automation and Barney & Barney, LLC.

FAIRYTALE BROWNIES is known for its rich chocolate brownies. Every batch of brownies is baked by hand using a secret family recipe. Fairytale Cookies were added to the line up in Fall 2010, and buttery blondies were introduced in September 2012. Fairytale brownies, cookies and blondies are certified kosher dairy.

For more information, samples, or images, please contact Eileen Spitalny of Fairytale Brownies at 602.489.5122, eileen@brownies.com.
Back