Phoenix, Ariz. - January 1, 2011 - Visit Fairytale Brownies at NASFT's 36th Winter Fancy Food Show in San Francisco, and see "What's New, What's Hot" in the 2011 gourmet brownie line up. The brownies company will display and sample products from Jan. 16 - 18 at Booth #1071 in the North Hall of Moscone Center.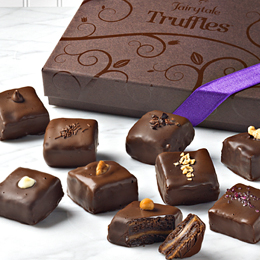 Fairytale has added six new truffle flavors to the 9-piece Truffle box. Inside each box is one each of Original, Caramel, Chocolate Chip, Espresso Nib, Pecan, Raspberry Swirl, Toffee Crunch, Walnut and White Chocolate. The truffles are 1.5" x 1.5" chocolate brownies enrobed in 60% Callebaut chocolate. Truffles are available in bulk for retail sales, catering, trays and amenities. They stay fresh for 30 days on the shelf, 90 days refrigerated and six months frozen.

Fairytale provides a great drop-ship program for catalog companies, floral shops and other online retailers. New for drop-ship customers are the Regal Tower and Classic Tower.

Other Fairytale products available for wholesale purchase include a 1lb. Brownie Tray, 4 lb. Half Sheet, Fairytale Brownies, Sprites and Magic Morsels. All bulk brownies, Sprites and Magic Morsels are individually wrapped for freshness.

Holiday product images and gift description copy are available in our wholesale images library at brownies.com/wholesale.

Fairytale Brownies began its successful mail order business in 1992. The brownies are baked with imported Callebaut Belgian Chocolate and other natural ingredients. No preservatives are used, so brownies should be kept frozen until placed for sale. They freeze well for 6 months, and will stay fresh on the store shelf for 14 days and refrigerated for 30 days. All brownies are certified kosher.

Fairytale Brownies Co-Founders Eileen Spitalny and David Kravetz began their friendship on the kindergarten playground. Their business partnership began in 1992 when they baked their first batch of brownies (using David's Mom's secret family recipe) in a friend's catering kitchen. Those days are gone as the duo now oversees their gourmet brownie business in a 26,000-square-foot facility where they bake more than 3 million brownies annually. Both co-founders will be at the Fancy Food Show.

For more information, samples, or images, please contact Eileen Spitalny of Fairytale Brownies at 602.489.5122, eileen@brownies.com.