CONTACT: EILEEN SPITALNY
Fairytale Brownies
www.brownies.com
602.489.5155
eileen@brownies.com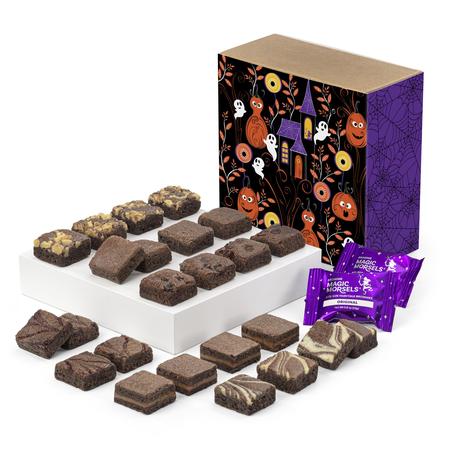 Phoenix, Ariz. - July 15, 2008 - This year, when ghosts and goblins ring the doorbell on All Hallows Eve, treat them to a delicious Fairytale Brownie.

Kids love candy, but one bite of Fairytale's chocolate goodness will have them saying, "what's candy?" All Fairytale Brownies are baked with natural ingredients like pure creamery butter, farm fresh eggs, Belgian chocolate and fluffy cake flour, so parents can be assured they're serving a chemical-free snack. Children (and adults) will eat them up!

Magic Morsels are the perfect size Fairytale Brownie for trick-or-treaters and Halloween party bowls. At 1 1/2" x 1 1/2", they are baked in Fairytale's most-loved flavors - Original, Caramel, Chocolate Chip and Walnut - and are individually wrapped for easy carrying and sharing. Fairytale offers a variety of Morsel gifts for any size party.

If a party is out of the question, but you want to send Halloween wishes to a special someone, Fairytale Brownies new Halloween gift band is perfect for the occasion Its colorful scene shows the Fairytale Brownie donning his ghost costume and creeping through the darkened forest in search of treats rather than tricks. Glowing jack-o-lanterns guide his way to the next chocolate surprise.

For more information, samples, or images, please contact Eileen Spitalny of Fairytale Brownies at 602.489.5122, eileen@brownies.com.
Back