CONTACT: EILEEN SPITALNY
Fairytale Brownies
www.brownies.com
602.489.5155
eileen@brownies.com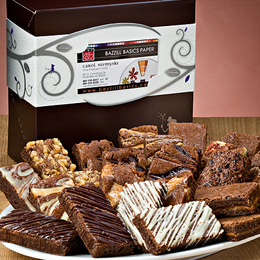 Phoenix, Ariz. - Immediate Release - Knowing that those in the promotional products industry want to leave a lasting impression on their clients, Fairytale Brownies has created an exclusive gift for them to achieve their goal.

Available, September 1, Fairytale's new Custom Business Card Gift Band is the perfect way to introduce a service or thank someone for their business.

The gift band wraps around a decadent box of fudgy Fairytale Brownies and the company's business card is tucked into the face of the band. Recipients can simply remove the business card for future reference and enjoy the brownies for the short time they last. (If shared, brownies only last about 10 minutes.)

"Our distributor clients love our products, but asked for an exclusive gift that isn't available to regular Fairytale Brownies customers" said Eileen Spitalny, Sales and PR Team Leader. "Because distributor clients sell to businesses wanting to increase sales or say thank you, it's logical to create a gift that would leave a lasting business impression."

The Custom Business Card Gift Band will be available to purchase with the following gifts: Brownie Dozen, Sprite 24, Morsel 24 and Double Dozen.

Fairytale Brownies bakes with all natural ingredients including real butter and farm fresh eggs, and uses no preservatives or trans fats in the gourmet brownies. Baking since 1992, Fairytale Brownies is known for its rich chocolate brownies. Every batch of brownies is baked by hand using a 50-year-old family recipe. Fairytale Brownies are certified kosher.

For more information, samples, or images, please contact Eileen Spitalny of Fairytale Brownies at 602.489.5122, eileen@brownies.com.
Back