CONTACT: EILEEN SPITALNY
Fairytale Brownies
www.brownies.com
602.489.5155
eileen@brownies.com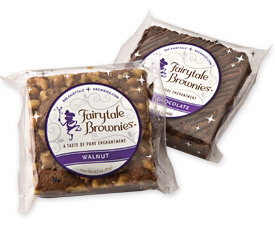 Phoenix, Ariz. - Immediate Release - Fairytale Brownies has streamlined its wholesale packaging by providing ready-to-display brownie boxes for retailers.

The new Retail Display Box arrives shrink-wrapped with 12 brownies, 18 Sprites or 24 Magic Morsels inside. Retailers simply open the box, and re-adjust the lid to pop up at the back of the box. The pop up lid converts the box to a self-contained shelf display for the brownies.

"We believe the display box will help broaden sales," Fairytale Brownies Co-Founder Eileen Spitalny said. "Customers will see the brownies, recognize the brand and make their purchase. These boxes also work well in the frozen section as an entire shrink-wrapped unit for sale."

The ready-to-display boxes were designed with the retailer in mind. Pricing and key selling points are highlighted on the front of the box, and freshness and shelf life guidelines are listed on the back.

Fairytale Brownies are available in six delicious flavors (Original, Chocolate Chip, Cream Cheese, Peanut Butter, Toffee Crunch and Walnut) and in three different sizes.

Baking since 1992, Fairytale Brownies is known for its rich brownies. Every batch of brownies is baked by hand using a 50-year-old family recipe and natural ingredients including pure creamery butter and farm fresh eggs. Products can be kept frozen for 6 months. Once put on the shelf, date for 14 days or 30 days refrigerated. Fairytale Brownies are certified kosher.

For more information, samples, or images, please contact Eileen Spitalny of Fairytale Brownies at 602.489.5122, eileen@brownies.com.
Back