CONTACT: EILEEN SPITALNY
Fairytale Brownies
www.brownies.com
602.489.5155
eileen@brownies.com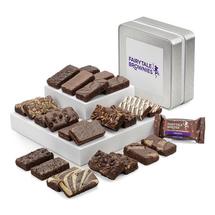 Phoenix, Ariz. - Immediate Release - Fairytale Brownies offers new gourmet brownie and cookie gift options for dropship retailers this fall.

The Keepsake Tin Sprite 24 is appropriate for the buyer looking for a multi-purpose gourmet treat. The gift arrives in an elegant silver and purple tin. Nestled inside the tin and waiting to be savored are two dozen 3" x 1.5" individually wrapped snack-sized brownies in 12 different flavors. Once the fudgy treats are gone, the tin can be used to store mementos and other keepsake treasures.

"We selected these gifts with our customers in mind," Wholesale Team Member Holly Pringle said. "Our easy order process and high profit margin make Fairytale Brownies the perfect complement to a company's online offerings. Our customers receive order, shipment and delivery email confirmations to monitor the gift's progress every step of the way."


Fairytale Brownies expanded its brownie line to include cookies. Now with six enticing cookie flavors (Coconut Walnut, Double Chocolate, new Mint Chocolate, new Peanut Butter, and Toffee Chocolate Chip), Fairytale offers the Cookie & Sprite Combo, and the Cookie Dozen for its dropship customers. The combo includes 12 enchanting flavors of snack-sized Fairytale Sprites and six cookies wrapped individually and hand packed in a classic brown box and wrapped with a purple or occasion-themed band. The Cookie Dozen includes two each of all six Fairytale flavors tucked in a purple enchanted gift box and with a stretch bow.

For more information, samples, or images, please contact Eileen Spitalny of Fairytale Brownies at 602.489.5122, eileen@brownies.com.
Back