CONTACT: EILEEN SPITALNY
Fairytale Brownies
www.brownies.com
602.489.5155
eileen@brownies.com

Phoenix, Ariz. - August 1, 2011 - Delicious sugar-free options are scarce for those with special dietary needs. But when one finds a treat worthy of consumption, it should be available in more than one flavor. Fairytale Brownies has added a new sugar-free Magic Morsel flavor, as well as two more regular morsel flavors.

Baked with the same rich Belgian chocolate as Fairytale's regular brownies, sugar-free Walnut is now included with sugar-free Original in all sugar-free Magic Morsel gifts.

Magic Morsels are baked in four other nonsugar-free flavors: Original, Caramel, Chocolate Chip, and Walnut. Two additional flavors will be included in the line this fall: Cream Cheese and Raspberry Swirl.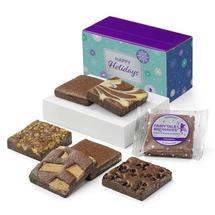 It's not too early to think about gourmet food gift needs for the holiday season. Fairytale Brownies Half-Dozen gift will help spread some yuletide cheer. Available with a Happy Holidays gift band or Merry Christmas gift band, six of Fairytale's popular flavors (Original, Caramel, Chocolate Chip, Peanut Butter, Toffee Crunch and Walnut) are hand packed in a silver-lined, purple treasure box. The delicious gift retails for $25.95. Fairytale Brownies brownie gifts are perishable. They will stay fresh in the freezer for up to six months; 30 days refrigerated; 14 days on the shelf.
Back