CONTACT: EILEEN SPITALNY
Fairytale Brownies
www.brownies.com
602.489.5155
eileen@brownies.com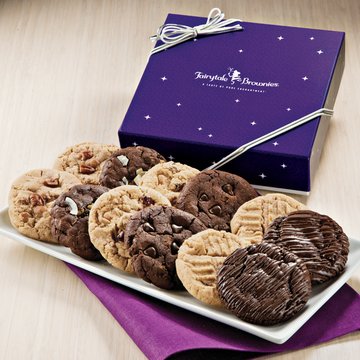 Phoenix, Ariz. - Immediate Release - Responding to its popular introduction of cookies in fall 2010, Fairytale Brownies will launch two new cookie flavors in January 2011.

Coconut Walnut and Toffee Chocolate Chip are the newest Fairytale creations: Chewy coconut flakes are folded into a chocolate cookie batter loaded with walnut pieces to create the Coconut Walnut. Belgian chocolate chips combine with rich, toffee pieces blending two favorite flavors in one delicious Toffee Chocolate Chip Fairytale Cookie.

"Our customers responded so favorably to the Caramel Pecan and the Double Chocolate cookies we introduced in September," Co-founder Eileen Spitalny said. "After many taste testings and a few recipe tweekings, we feel they will enjoy the Coconut Walnut and Toffee Chocolate Chip as well".

Fairytale's new Valentine's Day gift tin makes a sweet and memorable keepsake for both the giver and the receiver. The Fairytale Brownies guy dances atop a fat, red heart bursting with Valentine's Day wishes.

Two of Fairytale's popular holiday gift bands - Valentine's Day and Mother's Day - are not offered on the small treasure box gifts.

Baking since 1992, Fairytale Brownies is known for its rich chocolate brownies. Every batch of brownies is baked by hand using a 50-year-old family recipe. Fairytale Cookies are certified kosher.

For more information, samples, or images, please contact Eileen Spitalny of Fairytale Brownies at 602.489.5122, eileen@brownies.com.
Back