CONTACT: EILEEN SPITALNY
Fairytale Brownies
www.brownies.com
602.489.5155
eileen@brownies.com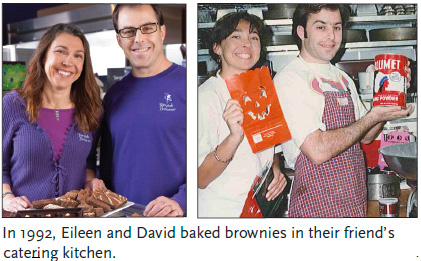 Phoenix, Ariz. - Immediate Release - This year, Fairytale Brownies is celebrating 20 years of making the world a sweeter place.

Co-founders Eileen Spitalny and David Kravetz plan to celebrate their company's milestone throughout 2012 with brownie giveaways and contests. "Our purpose has always been to simplify gift giving and spread joy through gourmet chocolate brownies," Spitalny said.

Fairytale Brownies will spread that joy by placing "silver tickets" in random gifts each month throughout 2012. The person receiving the silver ticket will be entitled to a FREE Fairytale Dozen. On the 20th of every month during the year, the company will give away brownie and cookie gifts by way of its Facebook page.

Also, Fairytale fans will tell their "How I Became A Fairytale Brownies Fan" story each week on the company's blog, Facebook and Twitter accounts. Fairytale will select five favorite stories at the end of the year and Facebook fans will choose their favorite story. This winner will receive a full year of brownie and cookie gifts! Fairytale Brownies will continue to post details on its web site at brownies.com/anniversary.

Eileen and David have been friends since they met on the kindergarten playground. They promised each other in high school that they would one day own a company together. Their dream came true in the fall of 1992 when they baked late at night in a friend's catering kitchen, and then sold the brownies at street fairs and farmer's markets.

Fairytale Brownies has come a long way since those early days. The duo now oversees their direct-mail order baking business in a 26,000-square-foot facility in Phoenix. Decadent brownie truffles were introduced to the line up in 2008, and chewy cookies in 2010. More than 3.5 million baked goods a year are shipped worldwide. "David and I are living our childhood dream," Eileen said. "We've accomplished so much in 20 years, but we still have more to do!"

For more information, samples, or images, please contact Eileen Spitalny of Fairytale Brownies at 602.489.5122, eileen@brownies.com.
Back