CONTACT: EILEEN SPITALNY
Fairytale Brownies
www.brownies.com
602.489.5155
eileen@brownies.com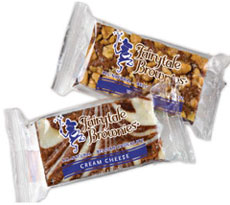 Phoenix, Ariz. - May 1, 2012 - Visitors to the NASFT Summer Fancy Food Show in Washington, D.C., will have the opportunity to see and sample Fairytale Brownies' gourmet products, including new Half-Size Brownies and Fairytale Cookies. This is Fairytale's first time exhibiting at the East Coast show from June 17 - 19 at booth #5230.

Fairytale Brownies' Half-Size Brownies are now packaged in clear film to entice customers into indulging in fudgy chocolatey homebaked goodness. "Consumers are used to seeing fresh-baked items in clear film," said Holly Pringle, Fairytale Brownies' wholesale team member. "Our Half-Size Brownies previously were wrapped in a brown metallic film, but now the buyer can see the dense fudgy brownie. These brownies are the ideal snack size." Fairytale's Half-Size Brownies are available in three flavors - Original, Cream Cheese and Walnut. Each brownie is center cut and a single serving - a perfect size for a convenient, on-the-go snack.

In addition, Fairytale Brownies will introduce four flavors of individually wrapped gourmet cookies to wholesale customers - Double Chocolate, Caramel Pecan, Peanut Butter and Toffee Chocolate Chip. These delectable cookies are baked with premium, all natural ingredients including pure creamery butter, farm-fresh eggs and fine brown sugar. All Fairytale Brownies products can be refrigerated for 30 days and frozen for 6 months. Fairytale Brownies and Fairytale Cookies are certified kosher.

For more information, samples, or images, please contact Eileen Spitalny of Fairytale Brownies at 602.489.5122, eileen@brownies.com.
Back