CONTACT: EILEEN SPITALNY
Fairytale Brownies
www.brownies.com
602.489.5155
eileen@brownies.com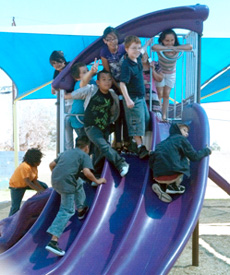 Phoenix, Ariz. - June 1, 2012 - One year after building a playground for homeless and transitional students, Fairytale Brownies team members visited the local school to celebrate with the children during recess.

"We remembered how much fun it was to build the playground and thought we should send brownies for the first anniversary," Fairytale Brownies team member Michelle Kerpan said. "Instead of shipping the brownies, we thought we should hand deliver them and play!"

When team members arrived to Children First Academy of Tempe, there was no question that the students still enjoyed their playground. A line of students was waiting to climb on the tire swing, another group was sliding down the triple slide, and several children were swinging from the monkey bars.

In April 2011, Fairytale Brownies, along with national nonprofit KABOOM! and 200 community volunteers, built a playground in one day. Although the company has helped build many playgrounds across the country over the past 10 years, this was the first playground that Fairytale Brownies completely planned and funded from start to finish.

Many of the students thanked the Fairytale team members with hugs and verbal thank-you's, while other students presented them with handmade cards and drawings. "Watching the children enjoy themselves made my day," said team member Lisa Anderson. "Their excitement was so contagious that I felt carefree when I returned to work."

Fairytale Brownies has been a partner with KABOOM! since 2001, donating brownies and funds to help build playgrounds across the country. Fairytale co-founders Eileen Spitalny and David Kravetz chose KABOOM! as a partner because they believe that unstructured play is important in a child's physical and mental growth. Eileen and David also met on the kindergarten playground and have remained friends since that day.

Fairytale Brownies plans to celebrate future anniversaries with the students and teachers at Children First Academy of Tempe.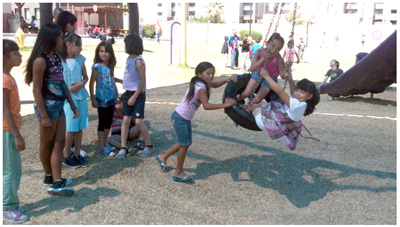 For more information, samples, or images, please contact Eileen Spitalny of Fairytale Brownies at 602.489.5122, eileen@brownies.com.
Back