CONTACT: EILEEN SPITALNY
Fairytale Brownies
www.brownies.com
602.489.5155
eileen@brownies.com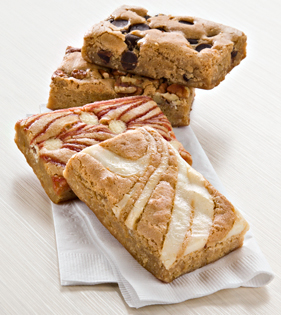 Phoenix, Ariz. - August 1, 2012 - Fairytale Brownies known for its gourmet fudge brownies will introduce dessert bars to its product line in September.

The 2" x 3" brown sugar-based bars will be baked in four flavors: Cheesecake Swirl, Chocolate Chip Blondie, Pecan Blondie, and Raspberry White Chocolate.

Fairytale Brownies has been baking gourmet brownies since the company was founded in 1992. Because 2012 marks 20 years in business, co-founder Eileen Spitalny said they wanted to celebrate the milestone in a big way.

"The new bars are the perfect complement to our gourmet brownie assortment," Spitalny said. "Premium ingredients make our bars just as enticing as our brownies and cookies."

Each bar begins with fine cake flour, organic vanilla extract, pure creamery butter and brown sugar. The difference is in the toppings - a swirl of sweetened cream cheese, a large scattering of semi-sweet Beligan chocolate chips, handfuls of chopped pecans, and a swirl of raspberry pureé with white chocolate chips. All four flavors will be included in many of Fairytale Brownies' combination gifts, as well as in a variety of gifts by themselves.

Food gifts are a popular way to say, "Thank You." New this fall, Fairytale Brownies offers 3-Box and 4-Box Thank You Towers to say thanks in a big way. The silver lids of each box feature Fairytale's signature star and cacao branch design, and box bottoms boast solid color in saturated, deep purple and rich brown. An assortment of Fairytale Brownies, Sprites, Magic Morsels, Cookies and Bars are hand packed in each box.

Fairytale Brownies is known for its rich chocolate brownies. Every batch of brownies is baked by hand using a secret family recipe. Fairytale Cookies were added to the line-up in Fall 2010. Fairytale brownies and cookies are certified kosher dairy.

For more information, samples, or images, please contact Eileen Spitalny of Fairytale Brownies at 602.489.5122, eileen@brownies.com.
Back