CONTACT: ALYSSA ANDREWS
Fairytale Brownies
www.brownies.com
602.489.5140
alyssa@brownies.com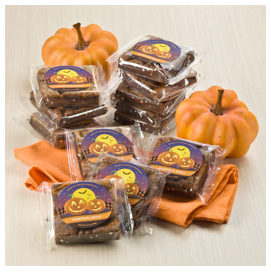 Phoenix, Ariz. - October 14, 2014 - It will be "Ghouls Gone Gourmet" this Halloween when trick-or-treaters and partygoers serve Fairytale Brownies' new Halloween brownies instead of the standard fare.

Pass on traditional candy and replace it with a treat baked with fine ingredients like Belgian chocolate, farm fresh eggs and pure creamery butter.

The Halloween brownie features Fairytale's seasonal flavor – Pumpkin Spice – with an enchanting label displaying two eerie, but cheerful, jack-o-lanterns in a field. Bats fly behind them in the clear, moonlit night.

"We wanted to offer an affordable and adorable Fairytale item for Halloween celebrations and parties," said co-founder Eileen Spitalny.

The 3" x 3" chocolate brownie is individually wrapped and is sold in bulk by the dozen. The brownies also are a perfect treat for the office staff, a goody bag insert, or trade show giveaway.

Another special treat to give or receive is the Halloween Favor. Whether it's packaged with bite-sized Magic Morsels or snack-sized Sprites, they'll be charmed by the festive Happy Halloween message on the gift box, and enchanted by the mix of brownie flavors inside.

For more information, samples, or images, please contact Alyssa Andrews of Fairytale Brownies at 602.489.5140, alyssa@brownies.com.
Back