CONTACT: ALYSSA ANDREWS
Fairytale Brownies
www.brownies.com
602.489.5140
alyssa@brownies.com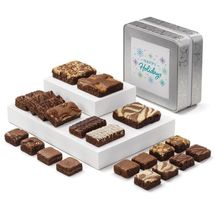 Phoenix, Ariz. - July 15, 2014 - When Fairytale Brownies customers send gifts this holiday season, their recipients not only will receive a sweet treat, they'll have a special keepsake to hold memories and beloved items.

Fairytale's handsome Wish Box is available for purchase with Happy Holidays greetings and bright red Merry Christmas sentiments on the lid. Inside the luxurious keepsake gift is a variety of choices of brownie, cookie and blondie bar combinations.

For those who prefer Keepsake Tins, the Christmas Keepsake Tin is decorated with a festive Christmas bulb adorned with garland, and white and gold poinsettias, and the Happy Holidays Keepsake Tin has a wintry snowflake and Happy Holidays sentiment printed on its lid. Both gifts are set against a white background and have matching white side panels.

Gifts are available for pre-order now, and can be shipped after September 1.

For more information, samples, or images, please contact Alyssa Andrews of Fairytale Brownies at 602.489.5140, alyssa@brownies.com.
Back