CONTACT: ALYSSA ANDREWS
Fairytale Brownies
www.brownies.com
602.489.5140
alyssa@brownies.com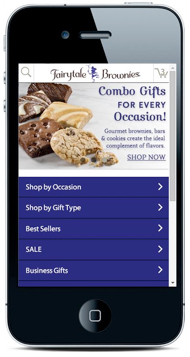 Phoenix, Ariz. - August 4, 2014 - Designed to be a quick, easy way to order brownie gifts any time and from any mobile device, Fairytale Brownies officially launches its mobile store this week: m.brownies.com.

Now, when you need to order a gift, you don't have to wait until you get home or back to the office to actually place the order. Just search for m.brownies.com on your mobile device and quickly order a brownie gift from the site.

The mobile site is perfect for business use. Did you just finalize a deal at a client meeting? Follow up with an impressive thank-you gift and order it from the mobile site before even leaving the building.

"The mobile website is designed for on-the-go shopping and is optimized for quick ordering on smaller screens," Colleen Flynn, Fairytale Brownies Graphic Designer said. "That means easier browsing, shopping and purchasing. It is gift giving made even simpler."

Customers will be able to log into an existing account, create an account or make a purchase as a guest. Downloading an application to go to m.brownies.com is NOT required.

For more information, samples, or images, please contact Alyssa Andrews of Fairytale Brownies at 602.489.5140, alyssa@brownies.com.
Back