CONTACT: ALYSSA ANDREWS
Fairytale Brownies
www.brownies.com
602.489.5140
alyssa@brownies.com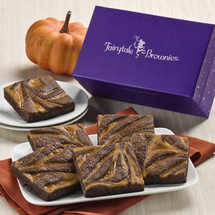 Phoenix, Ariz. - July 15, 2014 - For a limited time, Fairytale Brownies will offer a new, seasonal brownie for those who love one of America's favorite fall flavors – Pumpkin Spice.

"A pumpkin brownie has been on our to-do list for some time," said Eileen Spitalny, Fairytale Brownies co-founder. "We're happy to introduce our Pumpkin Spice brownie for the fall and holiday season when people most enjoy pumpkin-flavored foods."

Fairytale's Pumpkin Spice brownie begins with its rich, Belgian chocolate base. Sweet pumpkin puree blends with cream cheese, cinnamon, nutmeg, allspice and ginger, and is then swirled into the brownie batter and baked to perfection.

The Pumpkin Spice brownie will be available in two gift options: as a Half-Dozen gift and a Combo gift. The Half Dozen gift includes six Pumpkin Spice brownies individually wrapped and packed in a purple treasure box. ($21.95) The Pumpkin Spice Combo includes six Pumpkin Spice brownies and six Chocolate Chip brownies individually wrapped and packed in a classic brown box. ($36.95) A special occasion gift band can be added to either gift option for an additional fee. ($4).

The new Pumpkin Spice brownie will only be available for a short time – Sept. 1 through Dec. 31.

For more information, samples, or images, please contact Alyssa Andrews of Fairytale Brownies at 602.489.5140, alyssa@brownies.com.
Back