CONTACT: ALYSSA ANDREWS
Fairytale Brownies
www.brownies.com
602.489.5140
alyssa@brownies.com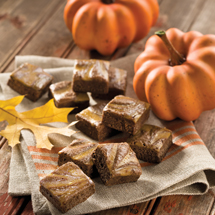 PHOENIX, Ariz. – September 15, 2015. Fairytale Brownies will offer the traditional and the sophisticated with the introduction of a new Chocolate Chip Cookie and Coconut Brownie to its fall flavor lineup.

"Chocolate Chip is one of the classics, if not the No.1 classic cookie flavor," said Eileen Spitalny, Fairytale Brownies Co-founder and Sales & PR Team Leader. "Because our customers were asking for another cookie flavor, we knew the next one to introduce should be traditional Chocolate Chip."

Fairytale combines semi-sweet imported chocolate chips with the perfect blend of brown sugar and vanilla to create this traditional favorite.

After customers experience the traditional, they can travel to the tropics with Fairytale's new Coconut Brownie. Large coconut flakes and coconut extract are baked inside rich, chocolate brownie batter for a sophisticated palate experience. The coconut flakes are soft and tender, producing a fervent taste bud response.

Back by popular demand is the Pumpkin Spice Brownie. After a successful first year of introduction, Pumpkin Spice will return this fall baked as a Magic Morsel. Although small in size, these 1.5" x 1.5" squares are brimming with flavor. Fairytale blends sweet pumpkin with cream cheese, cinnamon, nutmeg, allspice and ginger, then swirls the mixture into the brownie batter and bakes it perfection.

Samples are available to view and taste upon request.

For more information, samples, or images, please contact Alyssa Andrews of Fairytale Brownies at 602.489.5140, alyssa@brownies.com.
Back