CONTACT: ALYSSA ANDREWS
Fairytale Brownies
www.brownies.com
602.489.5140
alyssa@brownies.com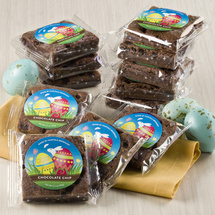 Phoenix, Ariz. - March 1, 2015 Fill their baskets with holiday chocolate brownies this Easter. Welcome spring with treats for the whole family or office! Fairytale Brownies introduces new packaging options for spring 2015.

Easter baskets always are filled with a variety of small items – candy, toys, eggs, gift cards, money. A new twist: add Fairytale Brownies' individually wrapped 3" x 3" Chocolate Chip brownies to those baskets as well. The colorful Easter label depicts a rabbit in a spring field chasing a butterfly between two decorated Easter eggs. The new Easter Chocolate Chip Brownies will be sold in bulk packages of 12 for $41.95.

Some people might be ready for spring to sprout sooner than others this year… Winter WAS a bit brutal for most. Welcome the season of new beginnings with a Fairytale gift wrapped with a Happy Spring band. As the sun peeks out behind a rain cloud and creates a colorful rainbow, the Fairytale Brownie Guy, donned with galoshes and umbrella, dances in the rain on a sprouting leaf among the purple dragonflies. The gift band is available on any gift packaged in Fairytale's classic brown gift box.

Samples are available to view and taste upon request.

For more information, samples, or images, please contact Alyssa Andrews of Fairytale Brownies at 602.489.5140, alyssa@brownies.com.
Back