CONTACT: ALYSSA ANDREWS
Fairytale Brownies
www.brownies.com
602.489.5140
alyssa@brownies.com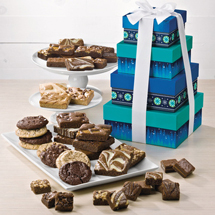 PHOENIX, Ariz. – September 15, 2015. Choosing a favorite gift from our new options will be a sweet challenge for Fairytale Brownies holiday shoppers. From nesting boxes to folding top lids, color and variety will be the hallmarks to the 2015 holiday packaging lineup.

The mail-order brownie company will introduce its fall and holiday gifts this month. "Some of the colors are a little unexpected for the holidays," said Erin Kress, Fairytale Brownies Marketing Team Leader. "Everything is bright and beautiful."

Bright blue, rich turquoise and deep navy represent the colors of the Holiday packaging line. Design elements within each of the packaging options are similar, but each gift box overall look and feel is different. On the new small treat box, snowflakes gently fall over the cool winter forest. Snowflakes create a colorful pattern on nesting tower boxes, and they form an artful arrangement on a gift band for classic boxes.

Holly branches, berries, garland, pine cones and vintage ornaments play the classic role to make the Christmas gift packaging merry. Red, green and cream are used to create a traditional yuletide feel.

Fairytale's newest packaging option is the whimsical Warm Wishes design. Patterned to appeal to consumers, fiery orange and frosty blue forest critters – cute fox and owl – are dressed in comfy mittens, scarves and hats to send cheery thoughts and delicious treats to the gift recipient.

"Our new designs are fun. We're fun!" Kress said. "Fairytale Brownies is all about spreading joy, and these gifts will definitely make people happy when receiving and eating."

Samples are available to view, along with brownies, cookies and bars nestled inside to taste upon request.

For more information, samples, or images, please contact Alyssa Andrews of Fairytale Brownies at 602.489.5140, alyssa@brownies.com.
Back