CONTACT: ALYSSA ANDREWS
Fairytale Brownies
www.brownies.com
602.489.5140
alyssa@brownies.com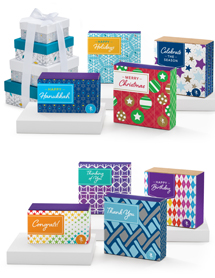 PHOENIX, Ariz. – August 30, 2018. Fairytale Brownies will bring more memorable impact to its delicious brownie gifts with newly designed packaging this fall. The company is going over the top with vibrant colors and fresh patterns featuring metallic inks, varnish and embossed design elements. These features will provide more visual and tactile impact for customers.

"We like to stay fresh to attract new customers, and we want our existing customers to have something new to send to their brownie loyalists," said Fairytale Brownies co-founder Eileen Spitalny. "We want our customers to get that thank you call or help them open a door to a new relationship. Our gifts do this with delicious brownies and impressive packaging."

The new Celebrate the Season design sparkles with gold metallic ink stars, and the hanging bulbs of the new Christmas design shine a bit brighter with the metallic gold accents.

Several of Fairytale's Special Occasion bands have been refreshed as well. The new Happy Birthday design features a rainbow of diamond and star shapes; and the Thank You design highlights a blue and shimmering metallic silver weave.

All the gift bands are embossed and will adorn a new Fairytale core gift box that will have a kraft outer shell and an elegant flood of purple inside.

Fairytale Brownies will begin packing gifts with the new packaging in September. Samples of the new packaging are available on request.

For more information, samples, or images, please contact Alyssa Andrews of Fairytale Brownies at 602.489.5140, alyssa@brownies.com.
Back