CONTACT: EILEEN SPITALNY
Fairytale Brownies
www.brownies.com
602.489.5155
eileen@brownies.com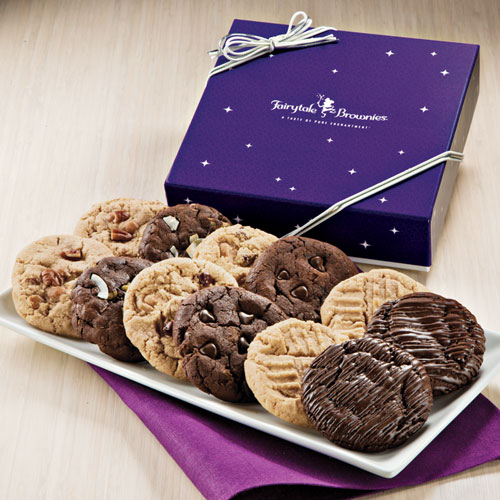 Phoenix, Ariz. - Immediate Release - After 17 years of baking the best brownies in the world, Fairytale Brownies has created a new taste experience with Fairytale Cookies. "We decided it was time to branch out beyond our brownie beginnings," David Kravetz, co-founder said. "Customers sending thank you food gifts kept asking for more variety. So the next logical step was cookies."

Baked with the same premium, all-natural ingredients used in Fairytale's signature brownies, the new cookies - Caramel Pecan, and Double Chocolate - will be sold in gifts by themselves or in combination with brownies beginning September 1st.

Organic vanilla extract, melt-in-your-mouth caramel and premium pecans give the Caramel Pecan a moist and chewy texture with a bit of satisfying crunch. The Double Chocolate cookie. baked with refined cocoa powder and rich Belgian chocolate chips, will satisfy even the most discerning chocolate lover's cravings.

The Fairytale Cookie Dozen will be sold at an introductory price of $19.95. The Cookie & Sprite Combo includes 12 Fairytale Sprites and six Fairytale Cookies for $34.95, and the Cookie & Brownie Combo includes six Fairytale Brownies and six Fairytale Cookies for $29.95.

Baking since 1992, Fairytale Brownies is known for its rich chocolate brownies. Every batch of brownies is baked by hand using a 50-year-old family recipe and all-natural ingredients including pure creamery butter and farm fresh eggs.

For more information, samples, or images, please contact Eileen Spitalny of Fairytale Brownies at 602.489.5122, eileen@brownies.com.
Back