CONTACT: EILEEN SPITALNY
Fairytale Brownies
www.brownies.com
602.489.5155
eileen@brownies.com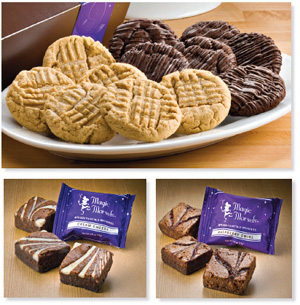 Phoenix, Ariz. - Immediate Release -
It's all about new flavors in Fairytale Brownies' fall product line-up.
Peanut Butter
and
Mint Chocolate
are the newest Fairytale cookie creations. Smooth, natural peanut butter and crunchy sugar crystals combine for a moist and flavorful
Peanut Butter
cookie. Rich cocoa powder and pure peppermint oil create the perfect blend of richness and cool, mint burst in the
Mint Chocolate
Fairytale cookie.
"Our Peanut Butter cookie looks and tastes like the classic homemade version mom used to make," Co-founder Eileen Spitalny said. "Just enough sweet and salty - we even hand score the tops!"
Raspberry Swirl, Cream Cheese,
and
Sugar-Free Walnut
are the newest tasty additions to Fairytale's Magic Morsels line-up. Swirls of raspberry puree and ribbons of cream cheese top the 1.5" x 1.5" bite-sized brownies for two incredible treats. And crunchy walnuts pile the tops of Fairytale's sugar-free chocolate morsels to give a "nutty" option for sugar-free fans.
Love the truffles, but need to add just a little bit more to the gift? New
Truffle Bundles
add variety to the number of possible Fairytale gift creations. Customers can combine Fairytale Truffles with their favorite Fairytale Brownie, Sprite, Morsel or Cookie assortment for a delicious gift. Truffles are bite-sized Magic Morsels baked in nine flavors
(Original, Caramel, Chocolate Chip, Espresso Nib, Pecan, Raspberry Swirl, Toffee Crunch, Walnut
and
White Chocolate)
and enrobed in 60% Belgian chocolate.
For more information, samples, or images, please contact Eileen Spitalny of Fairytale Brownies at 602.489.5122, eileen@brownies.com.
Back